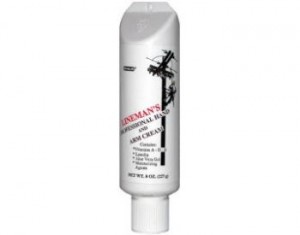 Lineman's Professional Hand & Arm Cream
Linemen (and all other men with working hands) are more productive with less chance of injuries if their hands are not dry, cracked, and sore. Moisturized supple skin allows workers to properly hold and use hand and power tools.
Get Lineman's Professional Cream here
Lineman's Hand Cream is recommended not just for Lineman, but for carpenters, woodworkers, bricklayers, gardeners, drivers, farmers, factory workers, those who have their hands in gloves for long periods, those who work with harsh chemicals, dirt, cement, paint or other drying agents, and anyone who has their hands exposed to the elements.
Excellent barrier cream and skin conditioner
Reduces the pain and discomfort associated with dry, cracked hands
Convenient 8 oz size—fits in glove box, toolbox or tackle box
Contains Vitamins A, D, & E; Lanolin; Aloe Vera Gel; and moisturizing agents
Hypo-Allergenic formula with no dyes and no fragrance
Lineman's Professional Hand and Arm Cream is scientifically formulated to protect even the toughest skin from the harsh effects of wearing rubber, leather, or other work gloves in warm and cold temperatures. It creates a protective barrier while conditioning the skin. Lineman's is recommended for use on hands, arms, and other skin areas that are covered by any type of work gloves for extended periods of time.
Apply prior to and after work for maximal skin protection.
Lineman's was developed with the working man in mind. We know that working outside can be brutal on your hands, fingers and arms. You have to work if it is hot, cold, windy, raining, sunshine and everything in between. If your hands and fingers are cracked and chapped from drying out, it can make it difficult to hold a tool and work.
So we developed Lineman's Professional Hand and Arm Cream with no dyes or fragrances, and formulated it to soothe and protect even the toughest skin from the harsh effects of weather.