Original Udder Balm skin moisturizing cream has been around for over 40 years. It has become the premium standard that others compare to and try and duplicate. Many competitors even use text off our label almost word for word! Don't settle for imitations, get the original… look for the girl and the cow on the green mountains!

Get Original Udder Balm here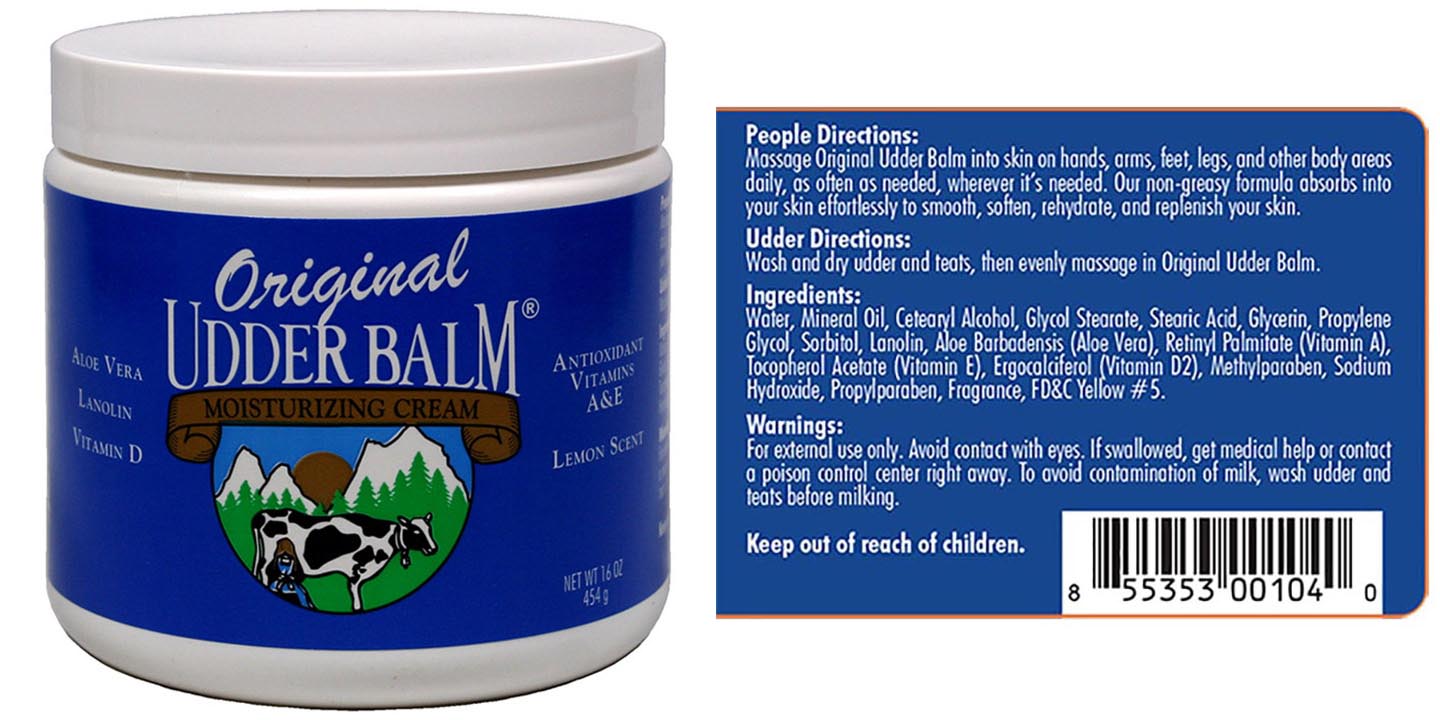 Ingredients:
Water, Mineral Oil, Cetearyl Alcohol, Glycol Stearate, Stearic Acid, Glycerin, Propylene Glycol, Sorbitol, Lanolin, Methylparaben, Fragrance, Sodium Hydroxide, Proplyparaben, Aloe Barbadensis Leaf Juice (AloeVera), FD&C Yellow #5, Tocopherol Acetate (Vitamin E), Zea Mays (Corn) Oil And Retinyl Palmitate (Vitamin A) And Ergocalciferol (Vitamin D2)
THE SAME ORIGINAL FORMULA SINCE THE '70s. And farmers and their families discovered that the same ingredients protecting sensitive dairy cow udders also work wonders for humans. And now used by medical professionals who frequently wash their hands. And other workers whose skin is constantly exposed to the sun, weather extremes or tough work.
ULTRA MOISTURIZING HAND, FOOT AND BODY BALM. Soothes and nourishes even the most sun damaged scaly/flaky/wrinkled/dry/rough skin; remedy for chapped hands or cracked heels; cream for dry cracked hands; foot salve; foot cream for severely dry and cracked feet. The best skin treatment in the winter, in areas with low humidity or even in dry desert conditions.
IT'S UDDER BALM, NOT CREAM OR LOTION – know the difference! Udder Balm is much thicker than other creams or lotions. It works great for smooth hands, foot and body; contains the least water, and provides superior protection and nourishment to the skin; udder butter made for humans.
BPA-FREE, ORGANIC CONCENTRATED ALOE VERA AND LANOLIN moisturizer enhanced with Antioxidant Vitamins A, E and D. Absorbs and soaks quickly into the skin; non-greasy, non-sticky, non-staining, not runny and goes a long way! It's the lanolin based lotion and softening non-greasy hand and foot cream you've been looking for, only much better!
100% MADE IN THE USA. We source all ingredients and packaging locally. It has been on the market for over 40 years. It's so effective it's even used as chamois butter and aloe moisturizer face cream.
ORIGINAL UDDER BALM
Farmers' wives and daughters have kept their skin smooth and soft for over 100 years. Their secret? The same ingredients used to protect cows' udders that are exposed to the ravages of sun, wind, and cold, also keep human skin soft and supple.
WHY IT WORKS
Our original creamy formula of 40 years uses a potent combination of ingredients: Aloe Vera, Lanolin and Antioxidant Vitamins A & E, and D. It provides deep moisture and re-hydration, instantly smoothing and softening the driest of skin without leaving a greasy residue.
COSMETIC, FOOD GRADE, or ORGANIC INGREDIENTS ONLY
Contains NO: BPA, PABA, Dimethicone or Petrolatum
Cruelty-Free
PACKAGING OPTIONS
Jar – for easy storage
Pump Jar – for convenience and keeping it clean
Tube – on-the-go moisturizer tube and hand cream for travel
Tub to refill your jar and stock the balm in bulk
OTHER USES & COMMON NAMES
Hand balm, foot & heel repair salve, moisturizing and softening body, face and hand cream, chamois butter, aloevera face cream, lanolin based lotion, chapped hands and cracked heels remedy cream